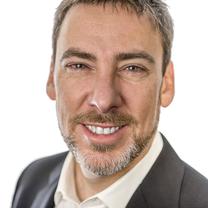 Andy McNamara

IEP Alumni Advisor since 2014
Advisor Bio
One of the original game journalists, Andy McNamara started his career in 1991 writing reviews of NHL Hockey and Sonic the Hedgehog for the Sega Genesis in the magazine's premiere issue. Named editor-in-chief in 1994, McNamara turned the quarterly newsletter into the number one monthly video game publication in the world, with over 7 Million subscribers and counting.

From the humble days of running the ASCII version of Star Trek on a workplace server to years of joyously exploring Atari 2600, ColecoVision, and Intellivision games during the golden age of video games, Andy immersed himself in pixilated adventures right up to the industry crash of 1983. Between '83 and '85 video games fell off the face of the Earth, but Andy rekindled his love of interactive entertainment when the Nintendo Entertainment System launched the modern era of video games with classics like The Legend of Zelda and Metroid. Andy still attributes Metroid as the reason he is involved with video games today.

He is currently the Global Integrated Communications Director for Battlefield, Apex Legends, and Star Wars at Electronic Arts.